Safety in production has always been the most important part of Dongjing Group's production management. annual
 In May, the Eastern Economic Zone was designated as Safe Production Month, and this year is no exception. The Eastern Economic Development Office organized a
 A series of safety training in stages and levels.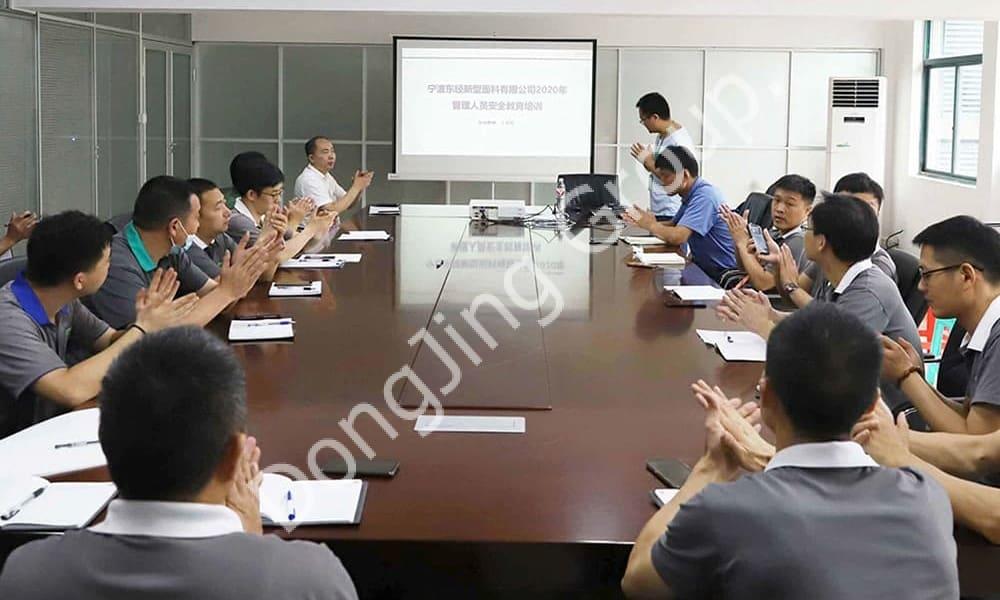 And for this safety production month summary meeting, the group specially invited Hangpei
Safety Technology Co., Ltd., Ningbo city-level safety production expert, Mr. He Yangyu, came to teach safety
Education training.
(Mr. He Yangyu, Ningbo Municipal Safety Production Expert)
 Managers above the group leader of each business department of the group participated in this training.
Teacher He Yangyu mainly introduces and analyzes the regional safety situation, safety awareness education and common posts
The three aspects of safety risk identification and prevention measures will be guided and trained.
(The staff of Dongjing listened carefully and took notes)
Finally, Mr. Lu Changbin, general manager of Dongjing Group, made suggestions on the company's safety production situation based on actual conditions.
A specific request was made.
(General Manager of Dongjing Group makes a concluding speech)
It also strengthened publicity, mobilization and organization and implementation in this safety production month activity
, Improve various safety management systems, clarify safety responsibilities, and achieve new
The safety responsibility awareness of employees has been further strengthened, achieving our safety
The goal of the production month activity was confirmed.
At the same time, President Lu emphasized that to highlight the extreme importance of production safety in the overall work, it is necessary to
Mobilize the company to further establish bottom-line thinking, strengthen risk awareness, and consolidate safety responsibilities.
Effectively curb various safety production accidents and ensure the overall safety, harmony and stability of the society.
Although the safety production month activity is over, the safety work is not over, and only
Starting point, no end.